Safe cooking, 3D heating, Turbo Air Guidance, Digital Panel, Bonus Accessories
$ 82.98
(including GST)
Sign up to receive daily offers like this and never miss out again!
Enjoy all the fried food you love minus the fat! The new 3D heating invented for this product ensure that your food is evenly cooked without any worries. Plus its transparent glass lid allows you to watch the progress of the food cooking. With its multifunctional settings, you can roast, fry, bake, BBQ, grill or broil whenever you feel like it.
The double safety setting is a special feature added into this product to ensure it is safe to use for every family member! The air fryer can be cleaned easily as it has a detachable bowl that doesn't take the whole space of your sink.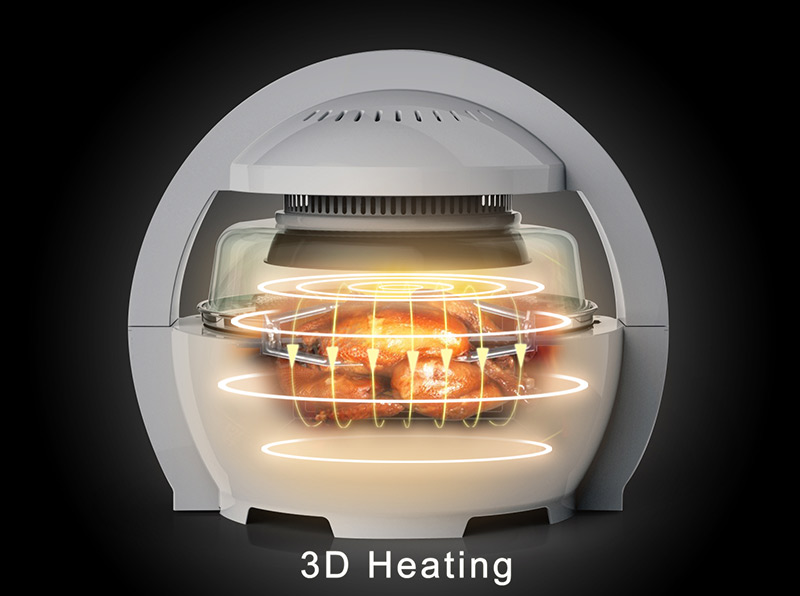 Features:
Spaceship multifunctional Air Fryer with 7 accessories
13L large capacity
Patented turbo air guidance from top to the food - No need to preheat!
Stainless steel internal bowl with non-stick coating
Octagonal axle sleeve makes the rod easy to fit in and only half-way to rotate
Transparent glass - see through the whole cooking from all sides
Friendly digital control panel
Food will be rotated automatically
Detachable bowl for easy-clean
Multi-functional healthy cooking
Quick cooking: Fry chips in 15-20 mins, Roast 2kgs chicken in 30 mins
Even cooking: Turbo air & food rotating ensures even cooking. 3D heating!
Healthy Cooking: Fat & Oil free (Without oil or one small spoon of oil to fry)
Easy cooking: Set Time & Temp, then air fryer does all
Perfect cooking: Foods become crispy outside, and juicy inside
SAA approved
Specifications:
Functions: Oil-less Fry, Roast, Bake, BBQ, Grill, Broil, Popcorn etc.
Container Capacity: 13L
Power: 1300W
Voltage: AC220~240V
Frequency: 50/60Hz
Temperature Range: 65-250 degrees Celsius
Dimensions (approx.): 44cm (L) x 37.5cm (W) x 37cm (H)
Bowl Size (approx.): 33cm (D) x 14cm (H)
Cord Length: 100cm approx.
Color: White
Notes:
* Please take out the paper in between the base and stainless steel bowl before use.
* A slight amount of smoke and a burning smell may be emitted during the first new use. Do not be alarmed, it is normal.
Package Includes:
1 x Multifunctional Air Fryer
1 x Dual Rack
1 x Rotating Roast Cage
1 x BBQ Set
1 x Tongs
1 x Rotisseries
1 x Steaming Pan
1 x Frying (Pizza) Pan
1 x Instruction Manual (Recipes included)
Warranty:
Availability:
Please allow up to 1-3 weeks for delivery
No pickup